Konferenz: Sergii Bulgakov – 150 Years After His Birth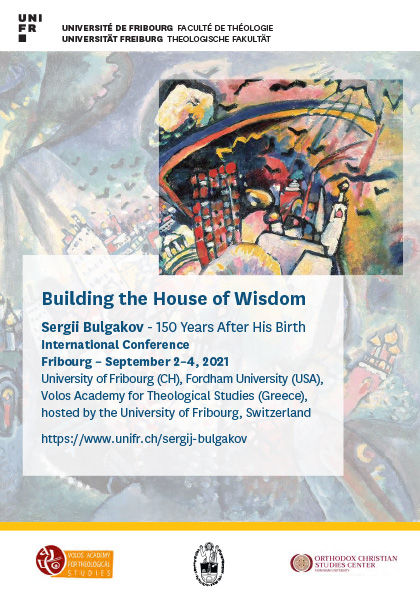 Building the House of Wisdom
2. - 4. September 2021
The conference is organised by the Sergii Bulgakov Research Centre at the University of Fribourg (Switzerland) in cooperation with the Orthodox Christian Studies Center of Fordham University (New York, USA), and the Volos Academy for Theological Studies (Greece).
Under the patronage of Rowan Williams,
Master of Magdalene College, Cambridge (2013–2020), Archbishop of Canterbury (2002–2012)
Sergii Bulgakov is one of the preeminent theologians of the 20th century. The international conference on the occasion of his 150th birthday (16th/28th July 1871 – 13th July 1944) aims to promote the reception of his work in Eastern and Western academic life.
The conference wants to explore Bulgakov's contribution to meeting the challenges of the modern world and to build bridges between East and West.
The colloquium will bring young researchers from different theological disciplines and different ecclesiastical traditions into conversation with established Bulgakov specialists. The official language of the conference will be English.
The conference takes place in-person for the invited speakers. However, due to to the pandemic, the access for audience is limited. You are cordially invited to follow the live streaming on Youtube:
September 2: https://youtu.be/7-3grnK6E0
September 3: https://youtu.be/pM110dn_d-o
September 4: https://youtu.be/YjzdT3oq3Qc