Diskussion: Ukrainian Churches in the Time of War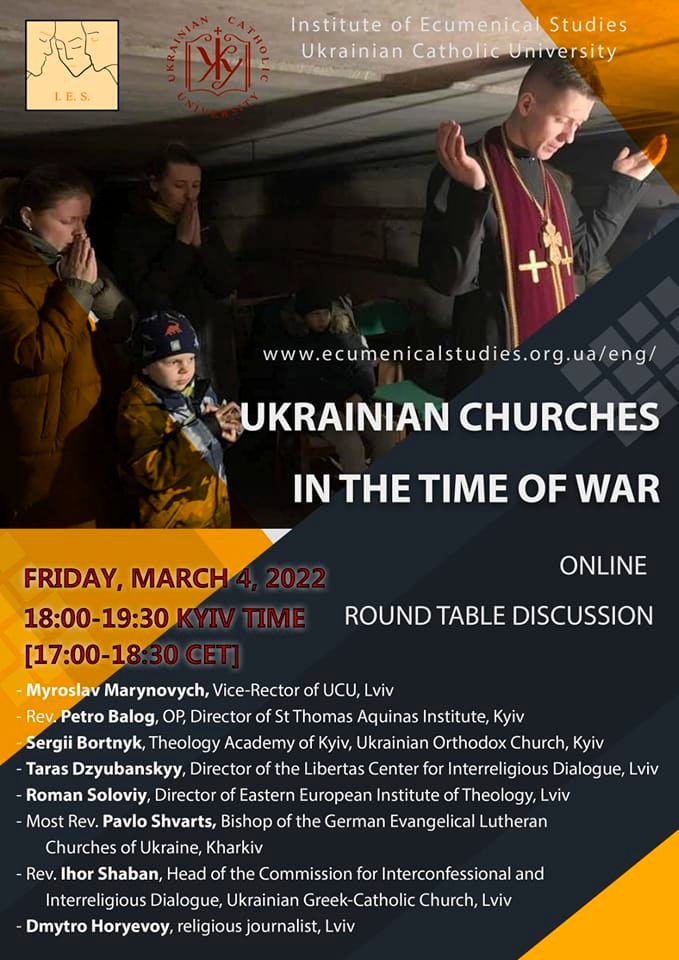 Round Table Discussion
Institute for Ecumenical Studies
Ukrainian Catholic University

4. März 2022
18:00 - 19:30 Uhr (Kiewer Zeit)
online
The war in Ukraine is heavily affecting the entire population of the country, churches included. We gathered an ecumenical cohort of representatives from Orthodox, Catholic and Protestant churches, as well as religious observers to examine how Ukrainian churches are reacting to the Russian military invasion and assisting the population. We will also examine the religious narratives being formulated and how religious organizations abroad can help in this critical moment.
Myroslav Marynovych, Vice-Rector of UCU, Lviv
Rev. Petro Balog, OP, Director of St Thomas Aquinas Institute, Kyiv
Sergii Bortnyk, Theology Academy of Kyiv, Ukrainian Orthodox Church, Kyiv
Taras Dzyubanskyy, Director of Eastern European Institute of Theology, Lviv
Most Rev. Pavlo Shvarts, Bishop of the German Evangelical Lutheran Churches of Ukraine, Kharkiv
Rev. Ihor Shaban, Head of the Commission for Interconfessional and Interreligious Dialogue, Ukrainian Greek-Catholic Church, Lviv
Dmytro Horyevoy, religious journalist, Lviv
Moderated by Rev. Roman Fihas and Pavlo Smytsnyk, Institute of Ecumenical Studies.